AUDITIONS: The Explorers Club by Nell Benjamin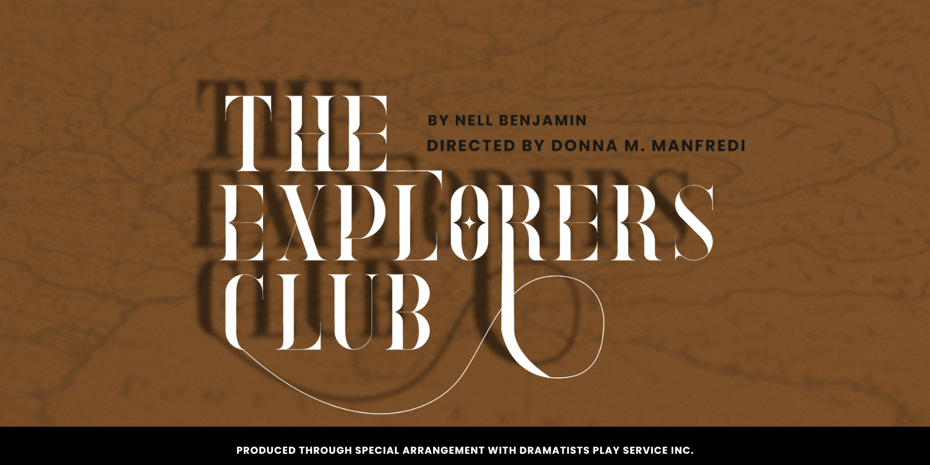 About This Event
SYNOPSIS:
The Explorers Club is a madcap zany farce written by Nell Benjamin. Set in 1879 London, it depicts the chaos that ensues when the club's acting president wants to nominate a woman to join the Explorers Club. True, she is brilliant, beautiful, and has discovered a legendary Lost City, but the decision to let in a woman could shake the very foundation of the British Empire! And how do you make a decision without a decent drink? This hilarious band of explorers and their hi-jinx keep the laughter coming fast and furious! The Explorers Club premiered in 2013 at Manhattan Theatre Club, New York City Center. It received an Outer Critics Circle Award for Outstanding Off-Broadway Play.
CHARACTERS and AGE RANGES
Lucius Fretway, a botanist and man of science. (30's-40's)
Phyllida Spotte-Hume, an anthropologist. (30's- 40's)
Harry Percy, an intrepid explorer who insists he has discovered the East Pole. (30's-40's)
Luigi, a NaKong tribesman discovered by Phyllida's exploration team. (Late 20's-40's)
Professor Cope, a herpetologist obsessed with his beloved snake. (Late 20's-50's)
Professor Sloane, an archeo-theologian. (50's-60's)
Professor Walling, a zoologist with a beloved pet guinea pig. (Late 20's-50's)
Sir Bernard Humphries, private secretary to Queen Victoria. (40's-60's)
Beebe, an explorer lost on a previous expedition (also plays the Irish Assassin cameo). (30's-50's)
**Countess Glamorgan, a countess who is twin to Phyllida (played by same actress as Phyllida). (30's-40's)
NEEDED: 8 Men (one actor doubling in 2 roles); 1 Woman (doubling in 2 roles).

Actors should come prepared to read from the script. British accent/dialects will be used. Actors must be 18 years or older and present a license or legal photo ID, resume` and headshot. Please be prepared to communicate any rehearsal conflicts. Rehearsals will be Monday through Friday evenings Feb. 15-May 11.
Click Here to Sign Up for an Audition Slot.

Performances are May 12-28, 2023 (Friday/Saturday nights and Sunday matinees).
AUDITION LOCATION: OLIVE BRANCH THEATRICALS
Westfield Valencia Town Center
4201 Valencia Blvd,
Ste 2283 (2nd Floor)
Santa Clarita, CA 91355
661-505-8733
February 11: Audition slots are in one-hour intervals; 8 audition slots WITHIN each hour:
10am-11am (8 slots)
11am-12noon (8 slots)
1pm-2pm (8 slots)
2pm-3pm (8 slots)
Callbacks, ONLY if needed, will be on February 12 from 1:00-4:00pm. The auditionees (who are invited) would report at 1:00pm, Feb. 12, Olive Branch Theatricals, Westfield Valencia Town Center.
Click Here to Sign Up for an Audition Slot.
Event Registration
Registration Type:

Online Registration

Registration Info:

https://www.signupgenius.com/index.cfm?go=s.signup&urlid=10C0948ADA923AAFEC25-auditions&useFullSite=true#/
Event Location
Olive Branch Theatricals

Westfield Valencia Town Center 24201 Valencia Blvd
Suite 2283
Santa Clarita, CA 91355
Event Dates
About Olive Branch Theatricals
501c3 Arts Non-Profit in Santa Clarita
Olive Branch Theatricals is musical theatre and performing arts nonprofit in Santa Clarita. We believe in bringing the community together through the arts and are passionate about making theatre a welcoming, fun, and inclusive experience for everyone - from performers to audience members.
We are passionate about creating dynamic community programs designed provide new experiences and opportunities for theatre-goers and talent alike in SCV.