In honor of Black History Month, we'd like to talk about some of the most influential and important black American playwrights. These artists helped shape American theater and left a profound impact on the arts. Whether it's your first time enjoying, or you're returning to a favorite classic, go check out these beloved works by some of America's greatest authors.
Aubrey Lyles and Flournoy Miller
Aubrey Lyles and Flournoy Miller (F.E. Miller) were a popular comedic duo between 1905 and 1932. They are considered some of the most important figures in the history of black American musical theater.
Lyles and Miller were childhood friends from Tennessee, who began performing together at an early age. In 1921, Miller's Broadway show, Shuffle Along, was so popular and long-running that it caused traffic jams on West 63rd St.
In 1923, the duo's play Runnin' Wild debuted the wildly popular "Charleston" dance and became one of the most popular shows of the decade.
Alice Childress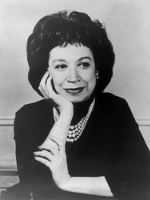 Alice Childress grew up in Harlem, New York and began her playwriting career in 1949. In her debut play Florence, she also performed the starring role. Childress was the first black woman to have had a play professionally published.
Her 1955 play, Trouble in Mind, won an Obie Award for Best Original Play. In 1973, her young adult novel A Hero Ain't Nothin' but a Sandwich became widely popular and was adapted into a feature film.
Childress published 15 plays and 5 novels throughout her career, including musical productions that she wrote with her composer husband. She is the only black woman to have written, produced, and published plays for four decades.
Langston Hughes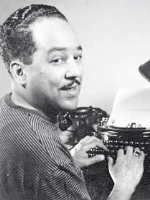 Langston Hughes was a renowned poet, author, playwright, and social activist. He was one of the most prominent leaders of the Harlem Renaissance and contributed to the creation of the "jazz poetry" genre.
In 1931, Hughes decided he wanted to create theater "for the people." As part of this mission, he co-founded the New York Suitcase Theater in Harlem, which focused on creating interracial plays and performing for workers in labor organizations. His play Don't You Want To Be Free? became the longest running play in Harlem at the time.
Ten years later in Chicago, Hughes founded a group called The Skyloft Players, which existed to support black playwrights and help bring "the black perspective" to theater. Hughes gained a worldwide reputation for his literary genius and powerful writing during the civil rights movement. Today he is still considered one of the most important and influential American authors and thinkers.
Lorraine Hansberry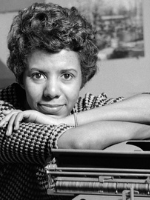 Lorraine Hansberry was the first black female author to have a play performed on Broadway. Hansberry grew up in Chicago where her family suffered under segregation. Her most well-known play, A Raisin in the Sun tells a similar story of a black family in South Chicago facing racial segregation and financial hardship.
A Raisin in the Sun debuted on Broadway in 1959 and won The New York Drama Critics' Circle award, making Hansberry the youngest playwright to receive this honor. Today, many critics consider A Raisin in the Sun to be one of the best plays of all time.
Lonne Elder III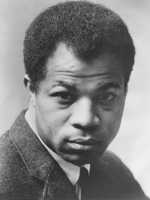 Lonne Elder III grew up in an impoverished family during the Great Depression and was orphaned at a young age. His aunt and uncle then raised him in New Jersey before he moved to Harlem, New York as an adult.
After serving two years in the army, Elder began pursuing acting and playwriting. Remember Lorraine Hansberry's debut play, A Raisin in the Sun? Lonne Elder III was cast as the starring role in that original production! Elder also received direct encouragement from Langston Hughes regarding his talent as a writer.
In 1969, Elder's play Ceremonies in Dark Old Men told the story of a Harlem barber and his family. This work received many accolades, including a Drama Desk Award for Most Promising Playwright and a Pulitzer Prize nomination.
Shortly after this success, Elder pursued a career in Hollywood. His adaptation of William H. Armstrong's novel Sounder received four Academy Award nominations, including Best Adapted Screenplay, making Elder the first black man to receive this honor.
We are forever grateful to these brilliant playwrights for sharing their stories and talent with the world. As we celebrate Black History Month, let's remember to appreciate their legacy. And go read or watch their plays!