Sh-Boom! Life Could Be a Dream Created by Roger Bean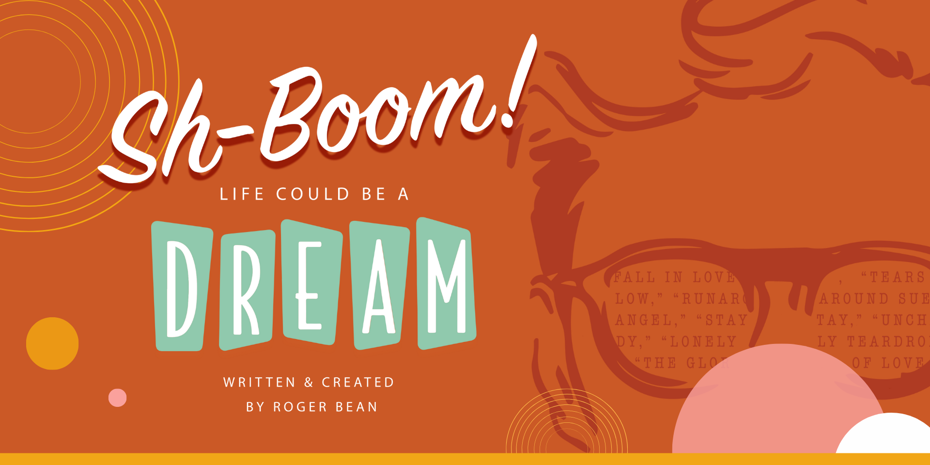 About This Event
Event Type:

Performance

Capacity:

250 people
Olive Branch Theatricals & Raising the Curtain Foundation are teaming up to bring you the vibrate musical, Sh-boom! Life Could Be a Dream created by Roger Bean.
Meet Denny and the Dreamers, a fledgling doo-wop singing group preparing to enter the Big Whopper Radio contest to realize their dreams of making it to the big time! Trouble comes in the form of Lois, who arrives to put some polish on the boys. Denny falls in love, Wally falls in line, Eugene falls apart, and along comes handsome heartthrob Duke to send the whole situation spinning.
The '60s hits say it all: "Fools Fall in Love," "Tears on my Pillow," "Runaround Sue," "Earth Angel," "Stay," "Unchained Melody," "Lonely Teardrops," and "The Glory of Love." Winner of the Los Angeles Drama Critics Circle Best Musical Award, Life Could Be a Dream will leave you laughing, singing, and cheering-let's hear it for the boys!
The 2pm performance on 6/25 is a sensory inclusive performance which includes the following modifications:
Therapy dogs
Cast introductions before the performance
Brighter house lights during the performance
Quieter sound effects
Sign Language Interpretation
Please note, there is a no-refund policy.
Musical arrangements by Roger Bean & Jon Newton. Additional musical arrangements by Steve Parsons.
Presented by special arrangement with Stage Rights (www.stagerights.com)
About Olive Branch Theatricals
501c3 Arts Non-Profit in Santa Clarita
Olive Branch Theatricals is musical theatre and performing arts nonprofit in Santa Clarita. We believe in bringing the community together through the arts and are passionate about making theatre a welcoming, fun, and inclusive experience for everyone - from performers to audience members.
We are passionate about creating dynamic community programs designed provide new experiences and opportunities for theatre-goers and talent alike in SCV.