The Explorers Club
Category: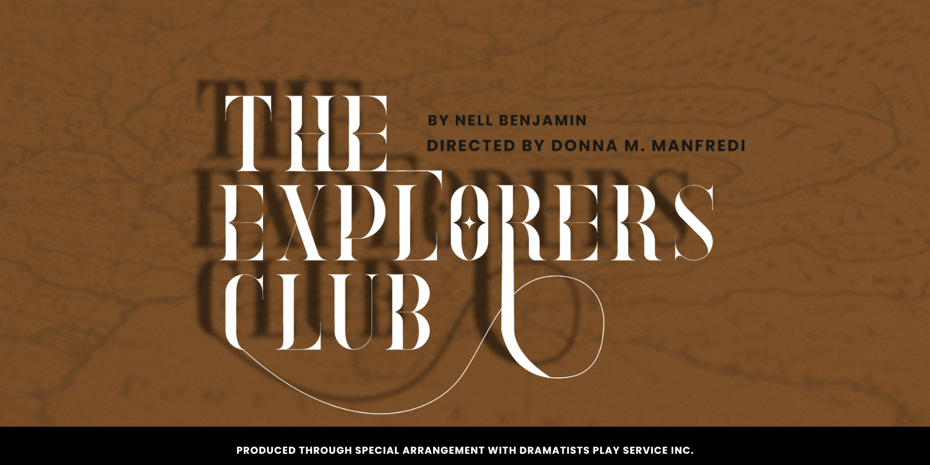 About This Event
The Explorers Club is a madcap zany farce written by Nell Benjamin. Set in 1879 London, it depicts the chaos that ensues when the club's acting president wants to nominate a woman to join the Explorers Club. True, she is brilliant, beautiful, and has discovered a legendary Lost City, but the decision to let in a woman could shake the very foundation of the British Empire! And how do you make a decision without a decent drink? This hilarious band of explorers and their hi-jinx keep the laughter coming fast and furious! The Explorers Club premiered in 2013 at Manhattan Theatre Club, New York City Center. It received an Outer Critics Circle Award for Outstanding Off-Broadway Play.
Tickets will be available for purchase starting April 10th, 2023. Click Here to check availability! 
Performance Dates: 
Friday, May 12th, 8:00pm Opening
Saturday, May 13th, 8:00p
Sunday, May 14th, 2:00p - Sensory Sensitive Performance 
Friday, May 19th, 8:00pm
Saturday, May 20th, 8:00p
Sunday, May 21st, 2:00p
Friday, May 26th, 8:00p
Saturday, May 27th, 8:00p
Sunday, May 28th 2:00p
Performance Location: 
The MAIN in Oldtown Newhall 
24266 Main St
Event Location
The MAIN

24266 Main St, Santa Clarita, CA 91321
Newhall, CA 91321
About Olive Branch Theatricals
501c3 Arts Non-Profit in Santa Clarita
Olive Branch Theatricals is musical theatre and performing arts nonprofit in Santa Clarita. We believe in bringing the community together through the arts and are passionate about making theatre a welcoming, fun, and inclusive experience for everyone - from performers to audience members.
We are passionate about creating dynamic community programs designed provide new experiences and opportunities for theatre-goers and talent alike in SCV.